Windfall Update, December 2006
Special Opportunity for Mare Owners: Help the USEA and get a Breeding to Windfall in the Process! You must act by December 6, 2006!
As part of their important fundraising program to fund educational programs, the USEA will auction a donated 2007 breeding to Windfall during the Annual Meeting, to be held December 7 -10 in St. Louis, Mo. Bidding will start at $3000 and the winning bidder will find all funds above that amount to be tax-deductible -- a wonderful chance to help a very worthy cause and also set up a chance to breed the next Olympic superstar. Windfall's four-year-old son Hanno won the 2006 National Young Event Horse Championships, by a very big margin! http://www.useventing.com/competitions.php?section=yeh&id=574
Even if you are not able to attend the meeting you may bid via a very fair and discrete mechanism set up by USEA. To do so, contact them at: Jennifer.Montgomery@useventing.com by Wednesday, December 6, at 9:00 a.m. EST. The USEA staff will bid for you at the auction, up to your high bid, and notify you after the Convention if you will soon be the proud owner of a Windfall foal!
Outcome: The winning bid of $3600 was placed by Cathy Balance of Huntley, IL, who will rebreed her Trakehner mare Ferari, after producing an outstanding Windfall colt from her in 2006. We join the USEA in thanking Cathy for her generous support!
Windfall Update, September 2006
WINDFALL SCORES ONE THOUSAND
From an August 30, 2006 press release from the United States Eventing Association: Dr. Timothy Holekamp's Windfall II has become only the fourth horse in U.S. Eventing history to earn 1,000 points on the U.S. Eventing Association's All-time High Point Leaderboard. Windfall's wins in the Adequan USEA Advanced Gold Cup classes at Millbrook and Richland Park in August took him to an all-time total of 1,007 points, which puts him in fourth place overall on this lifetime achievement scoreboard.
Of this achievement, Windfall's rider, Darren Chiacchia said today: "I am convinced if one's mission was simply to acquire points, a horse's career would fall very short of that goal. However, if one keeps the best interest of the horse in the forefront while developing the horse toward International competition, recognition such as this will follow.
"It is a huge honor to ride and compete a horse of Windfall's caliber. I am blessed to have a stable full of amazing animals, an environment filled with generous owners and sponsors, and a very talented support Team."
Giltedge, who represented the U.S. on five international teams with David O'Connor and who is owned by Mrs. Jacqueline Mars, has headed the all-time high point leaderboard since his win at the Kentucky CCI**** in 2003. Now retired, his legendary record is being challenged by three other horses: Linda Wachtmeister's and Plain Dealing Farm's Winsome Adante, Hannigan owned by Bruce Duchossois, and Windfall II.
Read about Windfall's spectacular 2004 and 2003 seasons here.
One thing a person learns early about the sport of eventing is that nothing is for sure. Best laid plans ARE oft wrought asunder, and that has been the story for Windfall this season. After fully committing to a plan for a try at the World Equestrian Games, we markedly limited his book of mares (as requested by Capt. Phillips), set up a brief string of competitions to tune up for the Rolex CCI ****, and just crossed our fingers.
First it was Rocking Horse HT II in February, where Darren and Windfall finished second, by less than a point, to Leslie Law and his Athens mount, Shear L'Eau.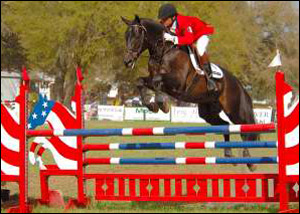 Windfall and Darren Chiacchia at the Red Hills CIC***W
Photo by Timothy Holekamp
Then the Red Hills CIC***W, where they were in the lead near the end of their cross-country run, galloping down the steep hill after the big water jump, toward the little one, with a sharp right turn at the bottom of the hill to get there. Darren was exerting great force on his right rein when suddenly there was a loud "POP!" and the rope cord that operates his gag bit snapped in half, completely disconnecting his right rein from the bit. After a close-call from falling off, Darren managed to stop by turning left away from the jump.
It was one of those moments of truth. A hundred spectators within fifty or a hundred feet and not one sure enough of the rules to run over and help Darren repair the damage. So Darren dismounted, scuffed his toe a time or two, then realized he needed to persevere and quickly hand-tied the cord to the bit itself, jumped back on and with an incredibly asymmetrical arrangement of bridle and bit managed to finish the course with ease, losing at least 90 seconds of time from the dismount. Even with 44.8 time penalties they placed 13th with 92.5 penalty points, in a field of 45 starters, only 25 of whom finished the competition. With 14 time penalties they would have won the event.
Next was a purposely easy run at Poplar Place at the end of March for conditioning. Even so they finished sixth in their division of advanced with eight time penalties on cross-country being their only "fault" after winning the dressage.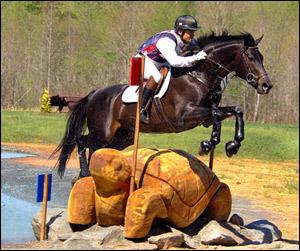 Windfalland Darren Chiacchia at the The Fork CIC***W.
Photo by Timothy Holekamp
The last run was at The Fork CIC***W in early April, a venue where virtually every horse at the top of the sport attended. Darren and Windfall were at their best, winning the dressage and completing the other two phases without any penalties at all, one of only five to do so. That win, added to the placing at Red Hills, has them presently at the top of the rankings in the US for the World Cup qualifiers, and ninth in the world. Short of a broken rein at Red Hills they would lead the world.
The Rolex was a different story. The excellent coaching by Robert Dover they received in the last six months, added to the remarkable soundness Windfall is enjoying presently, gave them the tools for a best-in-career four-star dressage test, putting them in the lead by six penalty points going into Day Two. Cross-country went badly. The course was wet and the new design tripped up many riders, including Windfall's. Three stops and they retired, uninjured but REALLY aggravated.
Some inexplicable bobbles in the selection process had occurred, making it impossible for Windfall to be chosen for the WEG team unless he ran at the Jersey Fresh CCI *** five weeks later, well within the bounds of reasonable, both being short format and Windfall not having run the entire course at Rolex, but not at all what we had planned or wanted. The outside pressure to make Windfall available for the Team was intense. Two full years of preparation had been invested and the Team was counting on us, so we made plans to go.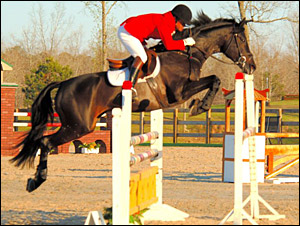 Windfalland Darren Chiacchia at Poplar Place.
Photo by Timothy Holekamp
The weather was the downfall. Rain covered the East Coast, the grounds were in terrible condition. The pair again won the dressage, but just an hour before their time to run cross-country the heavens opened up and dropped over an inch of rain on the already-soaked ground. Although the course held up most of the time, Windfall's turn was near the end and things got worse and worse. They ran beautifully for two thirds of the course but had a misstep coming to the big water jump, lost impulsion and Windfall did not have enough go-power to jump the big corner in the water. Two run-bys and then a Darren-fall coming out of the complex meant a non-qualifying score and an end to the WEG campaign for them. Whew! Talk about disappointing? The one good thing was that Windfall was physically completely okay. I stood with him as the vets passed him out on his first exam at the end of the course.
At home it was apparent that Windfall is not himself disheartened, it is just the humans who need some bucking up. Captain Phillips could not have been more kind and encouraging and has endorsed our plan to consider taking him to Malmo , Sweden in September for a try at the World Cup, a competition that almost seems designed for him personally. There is no doubt that he needs some preparation and some adjusting on cross-country, so three weeks later Darren schooled him through another very wet (though shortened) intermediate course at Groton House II. Things went quite well there.
Expert spectators were highly complimentary of his run and Darren was satisfied with how things went too.
The weekend of July 20-23 Windfall ran in the CIC** at Stuart Horse Trials, a venue that has become one of the most well-run in the nation. Incredibly high quality diagrams and photos of the cross-country courses along with instantaneous results posting on their website made the competition spectacular even for those of us who could not attend. Rain caused a reversal of the schedule the last two days, leading to high anxiety about the cross-country results on Sunday. No real need to worry, as Windfall ran in his old form, coming within three seconds of the optimum time, and winning the event in style. Four times he has competed at the Stuart CIC***, three wins and a second.
Now we plan a run at advanced at Millbrook HT in August. If things fall into place properly, we will make the trip to Europe in September and give both rider and horse the chance they deserve on the international stage. We hope Windfall's legions of fans will hang in there, just as we intend to.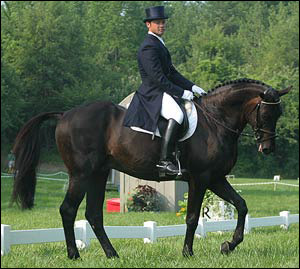 Windfalland Darren Chiacchia at Stuart Horse Trials CIC**
Photo by David Renner
It is no surprise that many folks have offered the suggestion of a retirement career in dressage for 14-year-old Windfall – it is not rocket science to conceive that plan, after Robert Dover rode him at a USET training camp last winter and announced to the crowd that he could have him performing at Grand Prix with a month or two of training. But that is not the point. Windfall is an authentic equine triathlete and could also become an open jumper. Maybe he will do some of this, but after ten years of very hard campaigning in the most grueling horse sport of them all, he is nearing the end of his competitive career and will go back to what he was meant to be: one of the top sporthorse breeding stallions in the world. Longevity runs in his bloodline. His four-star eventhorse sire died in perfect health at age 25 due to a freak injury that broke his leg. His sire's sire, also an international eventer, lived well into his thirties. So Windfall has the prospect of a long and unbelievably promising breeding career in front of him, based on history, pedigree, and offspring so far.
-- Tim Holekamp
---
Home | Windfall | Halimey | Songline | About Us
For Sale | Amethyst | Trakehners | Odds n Ends | Credits
Tim and Cheryl Holekamp
New Spring Farm
7901 Highway 63 South
Columbia, MO 65201
Sales horses: newspringt@aol.com
Breeding to Windfall: holekamp@aol.com