Windfall Named to US Olympic Eventing Team!!
Read an article by the USEF here.
Windfall Wins Rolex 2004!!
Read an article by The Chronicle of the Horse here.
2003 Proves To Be Banner Year for Windfall!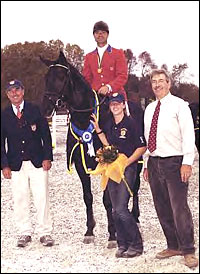 Pam Am Gold: (from left) Team coach Capt. Mark Phillips, rider Darren Chiacchia on Windfall, groom Cristin Stoop (won best turnout prize), and owner Timothy Holekamp.
After two seasons of a lengthy "getting used to each other" process and steady improvement in performance, Windfall and Darren Chiacchia have seemingly put it all together this year. Beginning with a fifth place finish at the Fall Three-Day Championships at Fair Hill CCI*** in late October, 2002, they have put together a string of wins and placings that is hard to imagine. Not everyone in the eventing world realizes or is sympathetic to the special challenges a breeding stallion faces at the top level of this sport. But the wise strategies and patient training that Darren has invested in Windfall have paid off.
PAN AMERICAN CHAMPION
Selected to compete as an individual for the United States at the Pan Am Championship of Eventing at Fair Hill CCI*** this October, Windfall excelled in training camp and came to the venue in excellent condition. For the third year in a row he won the dressage phase there. He began Day Two by nearly pulling Darren's arms out of his sockets on steeplechase the entire way. On phase D (cross-country) he began at a slower pace, which Darren decided not to correct. Jumping the entire course in excellent form, about half-way through he suddenly took the bit in his mouth and blasted off into warp speed, making up time, but coming in with some time penalties, even though he had plenty of gas left at the end, as shown by his quick recovery in the final vet box stay. He was still less than a point from the lead and when David O'Connor had his unfortunate fall on a horse in another division, Windfall became the horse to beat on Day Three. The benefit of a slightly more conservative phase D run became clear on the difficult stadium jumping course. There was a direct inverse relationship between speed on Phase D and the number of rails pulled in stadium jumping among the top competitors. Windfall had one of only two double clear rounds posted that day, the only American to do so, thus winning the individual gold medal by a margin of about five penalty points.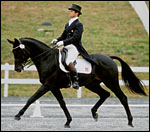 USEA HORSE OF THE YEAR
When all the grading points were added up at the end of the season, Windfall found himself the nation's top advanced level horse and also the top overall event horse. At the annual meeting of the Unites States Eventing Association (USEA) he was awarded the prestigious Casar Memorial Trophy. There is an interesting story behind that trophy that puts the spotlight on Trakehner stallions in eventing. Few stallions have ever found success at the advanced level in American eventing, and of those most were Trakehners (Amethyst, Windfall, Ahlerich).
In 1983 the only colt approved for breeding by the American Trakehner Association was a beautiful bay purebred youngster named Casar, bred and owned by founding members Dave and Pat Goodman of Wonderland Farms in West Chester, PA. He was by their stallion Donauschimmer and out of Celana by Amagun. Two years later he began with Bruce Davidson and became a meteor in the combined training firmament almost overnite, winning the CCI* at Groton House and placing at Intermediate level as a six year old. But one sad day in 1986, at another intermediate horse trials, in a driving rain, Casar misjudged a huge bullfinch, cleared the entire brushtop, and came down on a front ankle with his hindfoot, tearing a tendon sheath severely. Over the next eight months he fought infections, had surgeries, and faced bad luck situations hard to imagine. Ultimately he died. The Goodmans were devastated and had much difficulty coming to grips with the loss of their finest horse at such a young age. One of the ways they dealt with their grief was to commission and donate two beautiful trophies in his memory. One became the ATA's Casar Cup, given each year to the highest scoring approved Trakehner stallion in eventing. The other has become the USEA's top award, their Horse of the Year.
Now sixteen years later, for the first time, our horse has won both trophies, quite a surprising coincidence, and one that is especially meaningful to us, as the Goodmans have been our friends and mentors for twenty years.
Windfall has earned more grading points in the USEA than any stallion of any breed in the history of the sport. He is not finished yet.
(And on to 2004: Windfall wins the Red Hills CIC-W*** in Tallahassee, Florida, the first of this year's World Cup of Eventing qualifiers. Read an article from Equestrian News by clicking here.)
---
Home | Windfall | Halimey | Songline | About Us
For Sale | Amethyst | Trakehners | Odds n Ends | Credits
Tim and Cheryl Holekamp
New Spring Farm
7901 Highway 63 South
Columbia, MO 65201
Sales horses: newspringt@aol.com
Breeding to Windfall: holekamp@aol.com