Windfall Offspring Report

Teenaged riders knock Olympic medalists out of two of the top four spots in the 2008 YEH National championships aboard their New Spring Farm-bred-and-trained Windfall sons.
Reprinted from Eventing USA with kind permission
See Windfall Foal Gallery here (updated October 2007)
(The time has finally come that we may begin reporting some of the outcomes of Windfall's foals with regard to under saddle performance. For the last five years we have pretty much had to show folks his worth as a breeding stallion based on in-hand results of his foals, which have indeed been truly exceptional. But now there is more to tell, and we are very pleased to tell it.
Hanno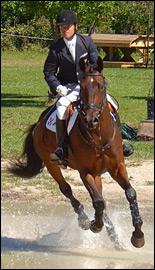 Windfall son Hanno and Darren Chiacchia, two-time winners of the Young Event Horse championships.
This dark bay gelding was born on our farm in early 2002, coming from the mare Hulta, (by the German superstallion Caprimond and out of the Matador/Halensee mare, Havanna). Hulta is more than a 7/8 sibling to the noted Trakehner and Hanoverian stallion Hohenstein. In 2006 we sold Hanno to Jean Kopperud of New York, who has shared riding privileges on him with Darren ever since. At last year's USEA 4-Year-Old Young Event Horse finals, Hanno won the national championship.
He came out once in January, 2007 at Training Level eventing and finished second, defeating last year's USEA Five-Year-Old YEH champion (Rainman) in the process. From then on it has been a string of Open Preliminary horse trials all season, with no injuries or unsoundness to make downtime for him. Toward the end of the season Hanno has come into his own, moving both dressage and stadium jumping up to the right level to win. And win he has, for the first time at Genessee Valley RDC Horse Trials on September 8. Then he placed a remarkable ninth at the American Eventing Championships, and was then second at Wit's End HT, again at open prelim. Quite a year, for a five-year-old.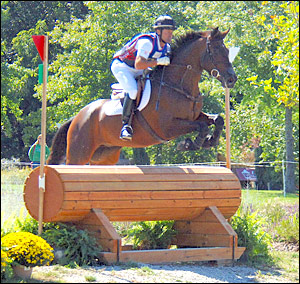 Hanno and Darren Chiacchia at the 2007 American Eventing Championships.
But his new owner decided that her fondest wish was for him to come back to the YEH program and finish well at the national championships. So he attended two qualifiers and entered the finals at the AEC venue, winning the 5-year-old division and becoming the first horse to win the YEH finals twice.


Ravenna
This black mare was also born here in 2002, from an Amethyst daughter named Rauta, whose dam was a TB paternal granddaughter of Bold Ruler with Eight Thirty twice on her damside. She is a Windfallish horse with a very mellow temperament. In the winter of this year she began competing with Cristin Stoop, who won a prenovice, then a novice, then a second and a fourth at training. Purchased for a youngster to ride, her present trainer/coach, former Canadian Team Coach Peter Gray, has repeatedly described her as, "The best young horse I have EVER been around."

Asterion
This four-year-old gelding came from our homebred event mare Astra, by Amethyst. He is a typical late-bloomer, whose first work under saddle was just a bit tentative, but when he turned four, his life really suddenly began. Cristin Stoop started him also in competition with a win at Beginner Novice and a placing at Novice. He was then purchased by a young rider, whose career so far has taken her to Training Level. For fun she showed him in the Canadian Young Event Horse series this summer and qualified for the national finals in September, where she was one young amateur facing some serious pros. But she and Asterion showed their worth and won the Canadian 4-Year-Old YEH national finals, whose judge, Jo Young (I), stated: "Asterion, although inexperienced, is very free and forward moving, with great fluidity and agility. We hope to see great things from this horse in the future."

See the Windfall Foal Gallery here
Breed to Windfall
---
Home | Windfall | Halimey | Songline | About Us
For Sale | Amethyst | Trakehners | Odds n Ends | Credits
Tim and Cheryl Holekamp
New Spring Farm
7901 Highway 63 South
Columbia, MO 65201
Sales horses: newspringt@aol.com
Breeding to Windfall: holekamp@aol.com