Amethyst: Deceased Trakehner Stallion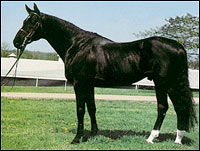 1980 Trakehner stallion 17 hands high
A deep regal amethyst black
Approved by the German Trakehner Verband and the American Trakehner Association.
AMETHYST'S BLOODLINES
Maharadscha
Amor II
Amethyst
Arosa III
Schabernack
Achalm
Aschenbrodel
Until retired in 1995 at age 15, Amethyst was the only stallion of any breed competing at advanced level eventing in the United States. He has received ATA Horse of the Year awards five years at Intermediate and Advanced, The Casar Cup five times, and the Forderverein Award once. He won the Bromont CCI** and was third at Radnor with his usual clean cross-country run and elegant dressage test. A stunningly beautiful Maharadscha grandson with exceptional movement, his fertility was excellent and his foals correct, well-mannered, and highly placed in competition. Many resemble him in type and athleticism.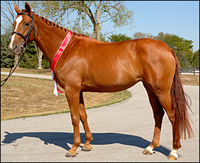 Amarna, by Amethyst
Now deceased for nearly a decade, it is fairly easy to see what he left behind. That turns out to be mares of very high quality, for the most part. There were about sixty of them, and most are still alive and in use. Few ever come on the market for sale, but those who do are found to have good movement, excellent jumping talent, and most uniformly, very easy-going temperament. These are highly trainable horses, mostly of medium size and frame, whose owners virtually all dwell on the outstanding "personality" they all have. This seems to be the reason so
few ever come on the market. In 2010 we have only one left in our possession, Amtheyst's very last foal born on our farm, the chestnut mare Amarna (out of Actress by Avignon/Ricardo), who won the USEA 4 y.o. Young Event Horse national championship in 2008 and is presently going successfully at preliminary level eventing.

Competition Results
* 1993 - 1988 -- winner ATA Casar Cup
* 1993 -- ATA Forderverein Award
* 1992 -- ATA Champion, Advanced Level
* 1991 -- AHSA Zone II Champion Intermediate Level
* 1991 -- 3rd place, Radnor Hunt International CCI**
* 1991 -- ATA Champion, Intermediate Level
* 1990 -- ATA Champion, Intermediate Level
* 1990 -- 1st place, Bromont CCA
* 1989 -- ATA Reserve Champion, Intermediate Level
1993 WNYDA Fall Breeding Competition:
* Amethyst -- 1st place Sire and Get
* Phaethon -- 1st place weanling colt (80%)
* Amethyst's Echo -- 1st place weanling filly (82%)
* Alchemy -- 1st place yearling filly (78%)
If you want a dressage horse, use a Trakehner stallion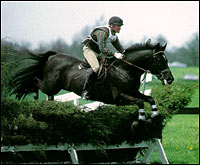 Each year, the United States Dressage Federation (USDF) publishes a list of stallions of all breeds that stand or stood in the United States and have excelled in the production of USDF Horse of the Year qualifiers. A stallion must have produced at least two qualified offspring in order to be put on the list. The list is sorted by breed and shows that Trakehner stallions far exceed any other breed in North America in producing dressage horses.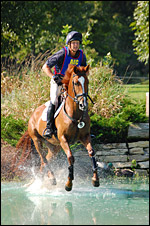 Amarna, by Amethyst
Photo © Erica Larsen
USDF records have been kept and sorted by breed since the 1989 show year, and the totals listed here reflect the number of separate horses that have made the list in any one or more of these years. For example, a horse like Hannabal that has appeared on the Horse of the Year list several years in a row is counted only once as offspring of his sire Pregelstrand.
A total of 833 Horse of the Year qualifiers were sired in the United States and competed in USDF dressage shows between 1989 and 1994. They are broken down by breed as follows:
| | | | | |
| --- | --- | --- | --- | --- |
| Trakehner | 278 | | Grade or unknown | 7 |
| Hanoverian | 181 | | American Quarter Horse | 6 |
| Dutch Warmblood | 77 | | Selle Francais | 5 |
| Holsteiner | 76 | | American Perf. Horse | 4 |
| Swedish Wmblood | 76 | | Andalusian | 4 |
| Thoroughbred | 31 | | Appaloosa | 4 |
| Westfalen | 20 | | Hungarian | 4 |
| Lipizzan | 16 | | Morgan | 4 |
| Oldenburg | 15 | | Percheron | 4 |
| Arabian | 9 | | Shagya Arabian | 2 |
| Connemara | 8 | | Shire | 2 |
---
Home | Windfall | Halimey | Songline | About Us
For Sale | Amethyst | Trakehners | Odds n Ends | Credits
Tim and Cheryl Holekamp
New Spring Farm
7901 Highway 63 South
Columbia, MO 65201
Sales horses: newspringt@aol.com
Breeding to Windfall: holekamp@aol.com