New Spring Farm Introduction
Read also: Cheryl and Hera Finish the Gold Medal Job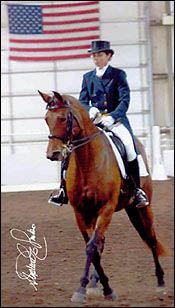 Cheryl Holekamp and Hera
We started in 1984 with two Trakehner mares that we bought at the ATA auction in Columbus, Ohio. Cheryl and I were recently married and had decided to build our home as a horse farm. After the obligatory six months of searching for the perfect place, we found it and bought it, originally about 45 acres of open land on the major highway running between Jefferson City and Columbia, MO. First a barn, then a lake, some fencing, and then a house to live in – presto! We were in business. Old equine friends came with us, a collection of mostly elderly riding horses of various origins. Cheryl has been a horsegirl her whole life, mostly in the hunters and jumpers, but by then she was rapidly making the transition over to dressage and combined training. I was raised in a horse family going back to Germany in the mid-nineteenth century, when my ancestors came over to the U.S. and somehow continued to instill an interest in horses in the children. My father showed saddlebred horses; his uncle was a noted breeder of them, and there were others in the family too. I grew up riding western, mostly trail horses, but some stock work as well.
Since children were in our plans, we thought about looking for a type of horse that would be calmer and gentler than thoroughbreds are sometimes, big enough to carry larger people, and could be used for the sports that we were moving into. That led us to Trakehnerdom, a relationship that was firmly sealed after one trip to an American Trakehner Association annual meeting. I was struck by the people, and Cheryl by the horses. Many of the members back then were Germans, even some East Prussians. The excitement of first-hand contact with a fascinating chapter of history drew me into the scene, and has continued my connection for more than twenty-five years. As our fund of knowledge about this breed and its history expanded, so did our circle of friends, both here in North America and in Germany. I am awed by the commonality of devotion to the Warmblood Horse of East Prussian Origin among the most diverse group of humans one could ever imagine. These devotees come in all ages, ethnicity, socio-economic strata, vocations, education experiences, and personalities. What is found in every one is an absolute commitment to preserving and furthering this amazing breed of horse. It is hard to resist the vortex of involvement, and we have been drawn in like so many others. Family resources have been expended, sometimes well, sometimes not so well. But the fascination continues.
Cheryl is a very gifted horse trainer, who thought her role was rider/competitor, but has found her real niche to be horse-teacher. We have been breeding four to six mares a year for all this time, raising nearly every foal to riding age before a new home is found for it. The process of "getting there," so to speak, is Cheryl's forte. A foal has thousands of experiences between birth and the moment of going off to be someone's riding horse, and the quality and directional purpose of those experiences are critical to producing the type of horse everyone dreams of riding and owning. Cheryl is totally in command of those experiences and has a special talent for starting a riding horse off "on the right foot." Our young horses have done well enough that we have earned a reputation for supplying mannerly, obedient, human-oriented mounts. This is our aim and we are getting the job done, thanks to Cheryl's talents, both with the horses themselves and with teaching and supervising others who handle them.
There are two well-known colleges with horse programs near here, William Woods University and Stephens College. Over the years many young women attending those schools have worked on our farm part-time and helped with the young horses. Their interest level is always high and their acceptance of Cheryl's method is even higher. We do not "force" a horse, either physically or mentally. Rushing to reach a training goal quickly is not part of the plan. Tactful communication with each horse is. The whole process is complex, but the basic principles are not.
We find that certain lines of horses within our breed are more eager to listen and learn, and those lines are the ones we are exploring in our breeding program. Soundness and athletic ability are very important, but that is not all that is being bred in Trakehners, not by a long shot. Those animals with a special talent for learning things fully and easily do tend to have offspring with the same feature and that is a large part of what 230 years of selective breeding at Trakehnen was all about. I remember my amazement early on when one of our colts was saddled for the first time at age three and ridden quietly off into the woods by Cheryl as if it were just another day. Things often go like that here (but not always….).
In the last ten years Cheryl has moved her riding emphasis into dressage, which she now prefers (for self-preservations reasons) to eventing for her own riding and competition sport. Starting the young horses in eventing is still the ideal program for us, as it is the "combined training" process, but FEI dressage has lured her. On our home-bred mare Hera *Pg* she has earned her USDF Rider's Achievement Silver Medal in 2003 and her Gold Medal in 2006. In these years she has also worked her way through the "L" program and then through USEF "r" licensed dressage judge to receiving her "R" dressage judge's license in January, 2011. Frequent judging has become her passion and is taking her away from the farm many weekends. An "S" license is her next goal.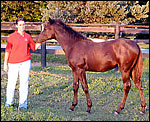 With regard to children, all four of ours took part in Pony Club and grew up under and on Trakehner horses. We are convinced that Trakehners can and do make wonderful mounts for junior and young riders, and take great pleasure in seeing our horses excel in that role.
New Spring Farm has expanded over the years, now 160 acres, half in pasture/hay fields, and about half devoted to woodland trails, a galloping field, and cross-country training obstacles and paths. We are not a public facility, do not board outside horses generally, but often share our place with others, youngsters and adults interested in learning eventing. To do our part to help improve safety in horse sport we have become boosters of the USEA's Instructor Certification Program and conduct workshops on our farm and at William Woods University in Fulton, MO. Sometimes we host mare inspections here also, which are invariably interesting, educational, and fun. Mainly though we are a breeding/training operation.
Our product is the young, ready-to-go riding horse for competition. Our hope is to make small incremental increases in quality each year. Progress is slower than one might like, but seems to us to be steady. With a base of Amethyst daughters, all of whom are gentle, easy-going "good gals," we see the future being rosy as the powerful genetics of Burnus/Habicht/Windfall plants the features of beauty/hardiness/extreme-athleticism in our herd. A separate branch, aimed more at dressage is developing rapidly from the genetic contributions of our young approved stallion Baron Verdi, whose famous sire Monteverdi passed away in 2009 and whose nephew, the approved stallion Grand Passion (by Oliver Twist), sold at public auction for 300,000 Euros in December, 2009.
Our ultimate goal? Why of course, it is to breed an Olympic champion. For sure. But we are just as interested in creating a distinct line of horses that will prove useful to the average rider/competitor, not just to the international-level horseman. The requirements of a horse for an adult/amateur or a young rider with competitive aspirations are actually a bit different from those of a top-level competitor. While gentleness and unflappability are essential for the former, they are sometimes seen as a hindrance to performance by the latter.
The great Australian event rider Phillip Dutton publicly said in 2001, in reference to one of his most successful mounts, "The most talented horses are not often the easiest to ride." This is a theme frequently heard in reference to specific upper level horses in all three of the combined training disciplines. The implication is that athletic talent and tractability are somehow mutually exclusive. We respectfully disagree. While quick-learning, very athletic horses do often require a tactful approach, the capacity of a horse to "forgive," to remain calm in the face of confusing signals and still be a top performer is not only possible, but actually breedable, in our opinion. A consolidated line of that type of Trakehner sporthorse is where we are headed. It will take a while. We will stay the course.
Read also: Cheryl and Hera Finish the Gold Medal Job
---
Home | Windfall | Halimey | Songline | About Us
For Sale | Amethyst | Trakehners | Odds n Ends | Credits
Tim and Cheryl Holekamp
New Spring Farm
7901 Highway 63 South
Columbia, MO 65201
Sales horses: newspringt@aol.com
Breeding to Windfall: holekamp@aol.com