Halimey (ATA registered as Halimey Go)
To Breed to Halimey: visit www.ChatsworthStud.com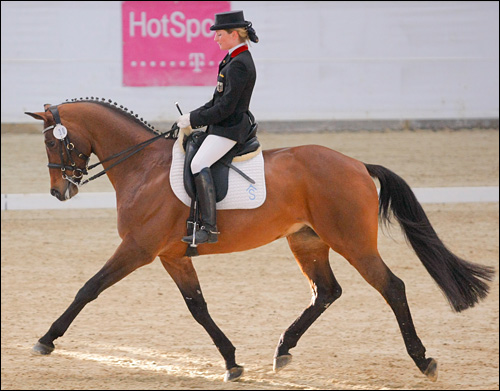 THE STALLION:
2005-foaled bay Premium-approved breeding stallion by German Trakehner Verband, standing 16 hands and 1 inch.
THE RIDING HORSE:
Champion of his 70-day performance test (HLP) at Marbach in 2009, with top scores in both dressage (121.85) and jumping (121.56) , and scores of "10" in both Character and Temperament. Overall score: 127.98
Placed 10th at the eventing Bundeschampionat (German National Young Event Horse Finals) as a five-year-old. As a five-, six-, and seven-year-old had numerous wins and high placings in Young Event Horse, Young Dressage Horse, and Young Jumper Horse qualifiers.
A win and high placings at one-star level CICs in Germany and Austria. (FEI ID number: 103FY85)
Watch video of Halimey cross-country here
THE BREEDING HORSE:
Quite a popular horse in Germany, with 74 foals born there, 30% of whom scored Premium at foal inspections. His oldest offspring are just coming under saddle, but one son was already invited to approvals at Neumuenster (did not attend), and daughters are doing quite well. One, named Despina (dam by K2), won the Championship title at the largest breeding district Mare inspections, in Bavaria, where Halimey stood until 2012.
He has excellent breeding manners, good semen quality and numbers, and is shipping fresh cooled semen regularly. We do not yet know how he will freeze.
See photos of Halimey offspring here
THE PEDIGREE:
To understand our special interest in this horse, and the reason he is now in the United States, it might be a good idea to relate the story of his purchase, from his German owners, a syndicate of individuals and the Bavarian Warmblood state stud at Schwaiganger. It was sort of a last minute decision to sell him in September, 2012, based on some business issues amongst the various owners. He was a late entry in the Neumuenster Hengstmarkt event in October and did not make it into the Riding Horse Auction catalog for that reason. To say I caught wind of the matter would not be inaccurate, but because of his quite interesting pedigree, I was immediately on alert and began researching the stallion.
His sire, Askar AA, was an Anglo-Arab bred at the famed Polish National Stud at Janow Podlaski; and was Poland's Three-Day Eventing entry at Atlanta in 1996, after winning his first CCI** at age 7. Askar's sire was half-brother to the great Zeus, a show jumper producer who was approved in nearly every big sport horse stud book in the world. Askar's dam came from the highly productive crossing of English TB and Shagya-arabian blood (see Windfall's pedigree!).
But it was Halimey's dam's pedigree that tumbled me. It is full of features I have studied, used already, and know to be very productive in breeding upper level competition horses. The dam herself was both State and Verband premium, and produced three approved sons in Germany. Her dam was a full sister to the dam of Hohenstein, and from the same cross as our best two foundation mares, both by Matador and out of closely related Halensee mares. From these mares (Havel and Havanna) we made many of the best performance horses of our breeding career, in both eventing and dressage (NAYRC double gold medalist, Young Event Horse two-time National Champion, US Prelim Horse of the Year, and USDF Gold Medal-earning Grand Prix mare).
And the Sire of Halimey's dam also brought Donauwind's rideability genetics, plus one of the most important and valuable mares of post-war Trakehnerdom, the elite mare Palma by Morganglanz.

So, this combined pedigree has features that fit our version of perfection for upper level eventing: 65%-70% "blood" and Trakehner ancestors of highly proven worth in producing riding/competition horses that can run and jump at the upper levels, but also excel at dressage. To say that this caused me to want to attend that auction would be quite the understatement.
Assembling the resources to use this young stallion properly and fully meant a top four-star rider who is comfortable with stallions. Immediately Michael Pollard of the Chatsworth Stud came to mind, and it took no goading to get him to fly to Germany for four days and carefully test this stallion. The report was complete and favorable.
Next I needed some financial allies to make this happen, and that materialized in the immediate commitment of my friend, Trakehner breeder Christine Turner of Spring Branch, TX. Michael wanted a piece of this deal too, so the three of us formed an agreement, sending me to Neumuenster with hope and a quick-to-rise right hand. After watching the horse work, reviewing the vetting carefully, and lining up some auction strategy with my partners, I went to the auction, did the best I could, and that turned out to be JUST enough, as we won the bidding and brought him home to Florida, landing at Miami just before Thanksgiving. Cheryl and I met him as he came out of the three-day quarantine at MIA, loaded him up with big grins on our faces and hauled him to Ocala for his lengthy CEM quarantine.
THE PERSONALITY: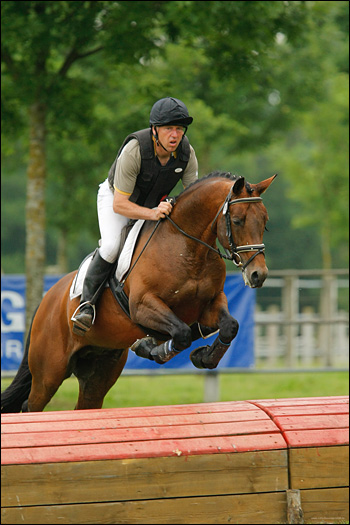 He is all we had hoped for and more. Because we were able to station him just down the road in Ocala from our farm, at the farm of Betsy and Will Calder, we were with him every day, and kept him in some semblance of fitness through the quarantine. By the time he left, there was no one there who was not claiming to be his biggest fan. He won the hearts of all people who came in contact with him, including us. This is one very calm and willing horse, with just enough stallion temperament to make him a good breeding animal, but a workman's attitude in tack that is just right. He and Michael hit it off immediately, and that resulted in one training level outing and three preliminary horse trials during the Spring, winning three of the four. One day, at prelim, Michael had him "just right" on dressage day and declared he could have won any level dressage at that moment, at any venue. The judge agreed, and scored him 17.7 penalty points, or 82.3%.
Whether or not Hal can and will be a four-star contender for our country remains to be seen, but he has the tools in his toolbox, is sound and healthy, and seems to have the competitive spirit and learning ability to get there in partnership with Michael Pollard. He will have the full backing of his syndicated ownership, and all the chances a horse can be given. His North American fan base is rapidly expanding.
OUR VERSION OF THE IDEAL MARE FOR HALIMEY:
It is not reasonable to say that this type or that type should not be crossed to this horse, as he has proven himself exceptional in all three disciplines, not only in performance testing but also in riding competitions. Could he produce a world-beating dressage foal? Of course he could, as will likely be proven in the next five years in Germany. Does his genetic make-up imply show jumpers? You bet it does.
But we are interested in eventing, and that is what he is aimed at in breeding and under saddle. It is the ideal sport for a true all-around horse, which he most certainly is. So the mare type this adequately "blooded" horse needs could come from a mostly Warmblood mare, an Anglo-Warmblood mare, or a Thoroughbred mare. We would like to see such a mare be proven in eventing, or a member of a family of proven and successful eventers. In terms of conformation and type: leggy and longer-necked mares would be best for him, I think. He has all the bone needed, and excellent "constitution" parameters, so he may very well be a "corrector" of some of those issues.
To Breed to Halimey: visit www.ChatsworthStud.com
Photos by Jutta Bauernschmitt
---
Home | Windfall | Halimey | Songline | About Us
For Sale | Amethyst | Trakehners | Odds n Ends | Credits
Tim and Cheryl Holekamp
New Spring Farm
7901 Highway 63 South
Columbia, MO 65201
Sales horses: newspringt@aol.com
Breeding to Windfall: holekamp@aol.com