Amethyst Obituary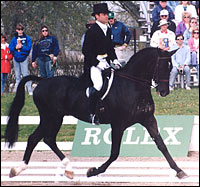 Amethyst died peacefully and without warning on October 19, 2002 from unknown cause. A simple sentence that tells all the facts that are important and new, but those who want to know what his loss means might like to read a bit about his story.
He was born at the state stud at Marbach, Germany in the spring of 1980, a privileged son of the highly decorated mare Aschenbroedel (by Schabernack) and the Maharadscha son, Amor II. After approval at the inspection at Marbach in 1983 he placed in the upper ranks of his group at the stallion testing there later the same year. In 1985 he was purchased and imported by Canadian breeder Harry Zimmerman, who campaigned him successfully in combined training. Peter Gray rode him and in 1989 Paul Delbrook decisively won the Bromont CCA** with him. Then Darren Chiacchia and Amethyst began their careers at advanced level together, after placing third at the Radnor CCI**.
In 1992 Darren formed a syndicate of Amethyst fans to purchase him for breeding and competition in the U.S. This created the chance that Amethyst had missed as a breeding stallion, as more mares were bred from that time on. Injuries stymied Olympic dreams, but each time the big black stallion went through leg surgery, he was a model equine patient, did his rehabilitation work boldly and kept coming back sound. He competed at Rolex, won numerous advanced horse trials, and became known around the country for his elegant and winning dressage performances and bold clean cross country runs. Along the way he won many hearts and the ATA CÄSAR Memorial Cup (best stallion in combined training) five times and the Foerderverein Award (most successful purebred Trakehner in eventing) once. Then in early 1995, just when his big chance was about to come, he was training for the Rolex in Georgia when he came down off a cross-country jump into a hidden hole of some sort and tore a flexor tendon so severely that his competition days were suddenly over forever. At the time of his retirement he had earned more USCTA grading points than any other stallion of any breed then competing.
Retirement at our farm began with him so lame it was doubtful that he could be used for breeding. Yet once again he recovered. The syndicate more or less collapsed down to just New Spring Farm and we expected to use him exclusively and extensively for breeding from then on. But soon after arrival we discovered that he was an EVA "shedder". Equine Viral Arteritis is a problem that unfortunately scared off many owners of good mares. We learned a great deal about this disease and found that it is far less of a management problem than widely claimed. None of his offspring inherited the disease. Only stallions are "carriers", so his daughters and gelded sons are not of any concern with regard to contagion. Of course we revealed his status to all, and consequently he did not get the number of mares he deserved, despite outstanding results, especially with mares of strong thoroughbred origin.
His foals began winning in hand all over and those on our farm and elsewhere proved highly trainable and athletic. The odd thing about him was that he produced more and better fillies than colts. He was an obvious "mare producer", and no colt by him has yet proven suitable for breeding, though several prospects are still youngsters. Of his 75 offspring registered so far by the ATA, 57% are fillies/mares. Interestingly, he is one of the top producers of approved PSB mares of all stallions, living and dead. This reflects his exceptional produce from thoroughbred mares. His prepotency was not so evident externally, but his ability to pass on his outstanding temperament was amazing. Our eleven-year-old daughter rode him very successfully for a time.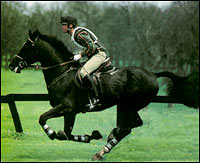 Mainly he just became the dominant figure on our farm, a high-octane stallion with plenty of fertility and libido, but a true gentleman with the ladies and all handlers. He obviously enjoyed his position as grand dragon of the herd, yet was completely free of irksome stallion behaviors toward humans. To better understand his relationship to us, let me tell you that on one occasion he demonstrated to us conclusively that he was perfectly capable of jumping into and out of his five-foot pen, and thus could access any mare he chose, but he never did. He knew we wanted him to stay put until we came to get him for that purpose and he followed our plan to the letter. He was A Good Boy. His offspring consistently show this same general temperament and cooperativeness.
Many mare clients became repeat customers and we enjoyed easy success with his business life. He was healthy and in good flesh. Things were good. We imagined another three or four years of this, during which time our goal was to find the right mare to honor him with an approved son. Several candidates came along, including one of our own, an Avignon daughter of great beauty and movement. She conceived in 2002 and we waited eagerly eleven months for that gorgeous black colt. In May, 2003 she delivered a handsome chestnut filly.
But one night in October, 2002 in good weather Amethyst just lay down in the grass out in his pasture and left us. There was no sign of struggle, no indication whatever of what happened. Cheryl and I looked at each other and just shook our heads. How could we possibly be angry or grief-stricken? At 22 years of age he was entitled to depart this world whenever he chose. Ten years of hard-core eventing, major surgery on all four legs, a younger life of nearly constant travels, and then the somewhat isolated life of a breeding stallion – he had endured it all with Trakehner nobility. He had accepted our affection and returned it manifold.
Not long before this, our friend Sherry Tourino had lost her very young and highly promising stallion, Pyatt Charly, under heart-rending circumstances; and so we could not bring ourselves to indulge in self-pity. The differences of the two circumstances were just so striking. Miss our Amethyst? You can be sure about that. But grieve for long? Not appropriate. He lives on in the Trakehner breed. We still have hope of an approved son. There are a few already coming up, plus several excellent mares in foal for 2003. But that is not essential; he has already done his work well and is at rest. We do have a supply of frozen semen from him, but it is of uncertain quality and we do not know if it will produce foals or not. What there IS a plentiful supply of are high quality young daughters from him, who will create our mare band for the future.
Amethyst was buried in the most prominent location in front of our main arena-barn. When Spring renewed life on our farm my wife, Cheryl, was soon out there planting beauty over his remains. To all his many admirers, supporters, offspring owners and riders, and most especially to Darren Chiacchia, we give our regards and thanks for creating his legacy.
---
Home | Windfall | Halimey | Songline | About Us
For Sale | Amethyst | Trakehners | Odds n Ends | Credits
Tim and Cheryl Holekamp
New Spring Farm
7901 Highway 63 South
Columbia, MO 65201
Sales horses: newspringt@aol.com
Breeding to Windfall: holekamp@aol.com