Oh, What a Year!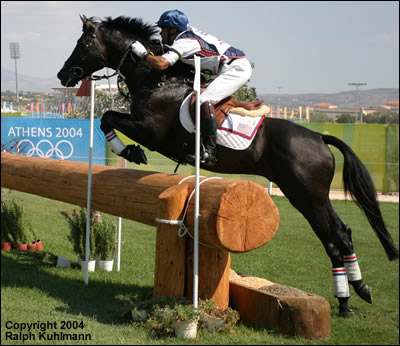 (Late August, 2004) -- Most event fans know the facts: At the 2004 Athens Olympics, Windfall finished in 12th place individually and was the third best score of the five US competitors, thus contributing to the team score that eventually won the Bronze Medal. How that came about and what it means to him and us is what might be more interesting to know, and likely will not be reported elsewhere from the same perspective.
After an excellent cross country run at the USET Final Outing at the NJ Horse Park in mid-July, Windfall pulled a gaggle of rails in the under-lights stadium test, for no apparent reason. What almost no one knows is that the stadium arena was a thin layer of footing over concrete and was painful (even frightening) for some horses to jump on.
The next day at Gladstone, Windfall was footsore as could be and rumors abounded about his "lameness" and disqualification. That bothered me, since the selection committee and all their vets were right there on site and directly involved in what happened that day and the next. They chose Windfall for the team. Why that happened is pretty obvious - they knew more than the rumor mill and believed he was able to compete and to succeed. He was.
Off he went to England, trained hard for three weeks right with the rest of them, gallops and all, and was sound when he flew to Athens on Aug 10. We followed him from England a few days later.
On dressage day he was completely fine and put in a darned good test, which was not scored as highly as we would have liked or thought right, but that is what judges are for. We trust them and leave them to their own consciences. The gap of eight percentage points among the three judge's scores for Windfall set us to thinking about things.
On cross country day he ran near the middle of the order of go, had an excellent run, came in at precisely the planned time: slightly over one second ahead of optimal time. Of the 74 horses, only about 14 or 15 managed double-clear runs. He was initially just fine, but by the time he got back to the barn was quite uncomfortable, due to some sort of "pull" or bruise in his left forefoot. This was not related to any pre-existing issue at all. Extensive FEI-legal vet work through the night and the next day resulted in some improvement, but a very marginal situation for the noon jog. He failed the first try and barely (yes, ever so barely) passed the second. I said to Darren, "What about the jumping now?" He said, "One thing at a time. He will do what he can. The team is counting on us."
Most of you saw what happened next. What you did not see was that he was lame at the canter on soft grass in the warmup. Panic! Fear! But as he eased up to the gigantic stadium itself, heard the noise of thousands of people, saw the jumps and other horses, Darren says he literally felt him transform himself into the warhorse his ancestors made him. The exciting ambiance of the Olympic Games is really somewhat analogous to what a battle situation might have been. Windfall went soundly over the course, barely (and I mean BARELY) ticking two rails off their cups, both at the start of combination jump series, finishing the team competition as the third best US pair, just a fraction of a penalty point behind Amy and Poggio.
Then we were absolutely crushed to find that by less than three penalty points, the US team failed to medal. One rail, just ONE RAIL would have made the difference. Even just a reasonably better dressage score would have done it. Augghhhhhhh!
We were literally crying in our beers back at the stableyard canteen an hour or so later, when Sandy Phillips ran out of the show office with beams of light blazing from her smiling face, sotto voce shouting, "We won the Bronze! They ruled that Bettina Hoy had faults!" We all went rejoicing off to the individual stadium jumping a little later, only to have the whole thing crushed down again by a simple notice on the scoreboard, midway through the evening jump, "Amended scores. US finished fourth." Augggggghhhhh and double Auggghhhh.
The Germans could have been a bit more serene about their "victory," but weren't. All along the facts were on our side in the issue. Most know that Bettina Hoy passed through the starting line twice after the bell rang for her first stadium jump and thus should have been penalized at least the time penalties for the seconds from the first passing through to the end of her ride. It was so bittersweet to see the fabulous medal ceremony, knowing that it was wrongly placed and would likely be changed again, but depriving Darren, Amy, John, and Julie of their deserved moment of glory. No way to replace that famous moment, ever. It especially hurt to think of the twenty years of hard work we had watched Darren put in, 24/7/365, all aimed at this exact day -- a podium opportunity at the Olympic Games! Sometimes vicarious pain is worse than the real thing.
Windfall pulled two rails in his second round of jumping too, leaving him in that 12th place. But what he did in the process was show us how really deep is the bottom of his heart. Think about the pain of a sprained ankle in a high-hurdles-racing human who chooses to run anyway. That is what W endured, and he tried his heart out. Look at the tapes some day of those two rounds he put in on August 18th and see for yourself. They were beautiful, even-footed, flowing, willing, and very nearly perfect. He tried so hard I can hardly type these words without getting choked up thinking about how brave he was. This is what "character" and "nobility" are all about in describing a great horse. He is a great horse, that one.
A small dose of bute the next day helped him ride back to England easily enough, and he arrived a few days later back in the States. The diagnostic veterinary work is not finished quite yet, but it appears there is no bone injury, just some sort of strain in the fetlock or foot. Some time off is in order and will be given. Everyone is talking about Aachen now and how important Windfall is to that planning. We will see.
From all of us in the Windfall camp, thank you for your support and for your faith in this horse.
-- Timothy Holekamp
Earlier 2004 Windfall news
Windfall Named to US Olympic Eventing Team!!
Read an article by the USEF here.
Windfall Wins Rolex 2004!!
Read an article by The Chronicle of the Horse here.
---
Home | Windfall | Halimey | Songline | About Us
For Sale | Amethyst | Trakehners | Odds n Ends | Credits
Tim and Cheryl Holekamp
New Spring Farm
7901 Highway 63 South
Columbia, MO 65201
Sales horses: newspringt@aol.com
Breeding to Windfall: holekamp@aol.com