Windfall Update, November 2007
Windfall Misses Pau CCI**** Due to Minor Injury
After nearly a whole season of near-perfect preparation for a four-star in the far south of France at Pau at the end of October, Windfall flew to Amsterdam about ten days early to train with Darren at his student's farm nearby. A few days later he came out of his stall with a sprain of his right fore ankle from unknown cause, a joint that had previously not had any problems. Despite therapy, he did not recover to the level of soundness we felt necessary in time for the lorry trip to Pau and thus did not have a chance to show his worth this season.
It was a terrible turn of events for all of us, particularly for Darren, who really felt "ready" for this one, and was derailed by this minor injury with terrible timing. As it turned out, we all went anyway, a gang of about 12, grooms, students, parents, fans and owners, and had a very nice time, but the other US horses did not take any special honors. The best performance posted was eleventh by Jennifer Wooten on her nimble mare, The Good Witch. The other three finished, which is better than half the starters, but once again, the Frenchman Nicholas Touzaint found his way to the top.
Now Windfall is already much better, but will rest for a few months and we will reevaluate his career path in February. His foals continue to impress, with two national young eventhorse champions in 2007, the best four-year-old in Canada and the best five-year-old in the US. Those started under saddle this season seem at least as good, or better.
Windfall Update, October 2007
After his last update report in June, Windfall came along exactly as we hoped. All exams, tests, and reports of his physical condition after splintbone-fracture surgery in April were the best possible. Dr. Furlong phoned glowing reports to me about his likelihood of being able to go back to full competition fitness and performance. So Darren and I laid out a plan for very gradual return to The Big Time.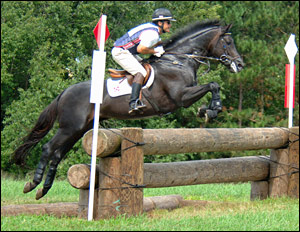 Windfall and Darren Chiacchia at the Richland Park Horse Trials in Michigan, August 2007.
First it was a simple outing at Preliminary Level at Millbrook, where he performed all tests brilliantly and was rewarded with a technical elimination when Darren sent him over the wrong fence on cross country, the second to last. Of course it was an adjacent Intermediate fence they jumped, but that still accomplished our goal, which was to see how he liked being back in action. He loved it, and came home sound.
Next was an Intermediate run at the Richland Park Horse Trials in Michigan at the end of August, where he won the dressage and ultimately the division, with a rail to spare at the end. This time there were some distractions: severe weather, mud, and one heck of a lot of "action" all around him. Not a flicker -- eager to run and jump, and again came home cool and dry in all four legs.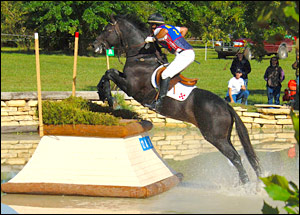 Windfall and Darren Chiacchia at the American Eventing Championships, September 2007.
Then after a little Advanced combined test at Bromont for schooling (which he won), the goal was set for the USEA's American Eventing Championships at Advanced Level at the spectacular Lamplight venue outside Chicago. We knew that this would pretty much tell the tale for the season, and allow us to decide whether or not to take a very big step in October, so a lot of mental energy was invested here. Hard to tell what happened in dressage, as he was an uncharacteristic third. But his cross country run was a work of great art – forward, stylish, smooth, clean, dingless, and exactly three seconds over the optimum time, right about where we wanted him. Two rails down in a very difficult stadium jumping course finished him second, which was just fine by us, because it showed him mentally ready for something even bigger. And once again, his legs and overall soundness are as good as ever.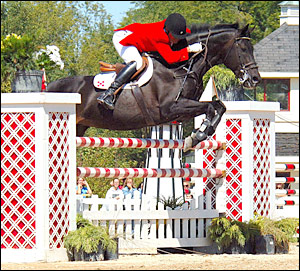 Windfall and Darren Chiacchia at the American Eventing Championships, September 2007.
Now it is time to put all concentration on the year's finale: The newest CCI four-star in the world, at Pau, France, which runs the last weekend in October. Pau is in a very interesting place, in the province of Bearn, where the Kings of Navarre lived, right at the very feet of the Pyrenees Mountains. The weather and ambiance should be magnificent and the level of competition will be outstanding, with the very best riders and horses of Europe and Great Britain likely to be entered. This will be a great chance for Windfall to display his eventing skills and poise, and we all believe that he is ready for it. The plan calls for him to fly over to Amsterdam about ten days early, train and rest up there with Darren, then van to Pau, rest a day or two and have at it. Cheryl and I will just sort of tag along like a couple of camp followers, in company with a group of other Darren/Windfall fans. Fingers crossed already, we go knowing that Windfall is ready and very willing to continue his career for a while longer. It is just amazing to watch him compete, he is so expressive that no one ever has trouble reading what is on his mind. GO!
---
Home | Windfall | Halimey | Songline | About Us
For Sale | Amethyst | Trakehners | Odds n Ends | Credits
Tim and Cheryl Holekamp
New Spring Farm
7901 Highway 63 South
Columbia, MO 65201
Sales horses: newspringt@aol.com
Breeding to Windfall: holekamp@aol.com