Windfall Update, June 2007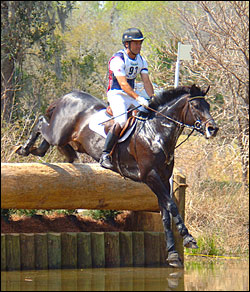 Into the water: Windfall and Darren Chiacchia at the Red Hills CIC***W in March, 2007
Photo by Timothy Holekamp
If there is one thing still to learn about horses, the thing that keeps getting pointed out over and over, it is to avoid the sin of hubris; you know – tempting the gods of luck by reveling in your comfortable success, bragging about those things that sorely need wood-knocking upon, and forgetting to do so. It so often results in a severe and unexpected whacking. And Windfall and I got ours, not long ago.
The error was a phrase around which our Windfall magazine advertisements for 2007 were built, "Still at Full Throttle After Ten Years of Eventing." And even worse, in the subtext trumpeting, "NO surgeries!" Oh, how could I ever have DONE that? What a fool. No sooner had we sent it off to all the printers of spring horse magazines, than he knocked himself on some unknown thing on cross-country at the Red Hills CIC***W in mid-March, seemed just a tad sore the next day and had two uncharacteristic rails down in stadium jumping (losing his first place position AND the BMW automobile prize), and went home not quite 100%.
Not long afterward an x-ray displayed a distal splintbone fracture in his left foreleg and just a bit of suspensory ligament involvement, just enough that surgery was the obviously right choice. Consultations galore, hand-wringing, tooth-gnashing, and then a trip to the top horse orthopedic surgeon in Ocala , whose care and attention were the absolute best. Within a few days Windfall was as normal as he could be, breeding by transported semen as usual. Now he has been out of heavy work for pretty much the first time in seven years, out of shoes too, as amazing as that seems. All reports at two months are that he is healing better than expected, doing very well, and expected to make a full recovery.
If that is how it ends up, he will get back into training and show some this fall, still aimed at readiness for selection trials next year for Hong Kong , still planning to have that be his last hurrah. We can assure you that it does seem likely. Meanwhile we are rejoicing in the excellence of his foals this season, both here and at the farms of our clients. Thanks to all of you for the wonderful support he enjoys.
---
Home | Windfall | Halimey | Songline | About Us
For Sale | Amethyst | Trakehners | Odds n Ends | Credits
Tim and Cheryl Holekamp
New Spring Farm
7901 Highway 63 South
Columbia, MO 65201
Sales horses: newspringt@aol.com
Breeding to Windfall: holekamp@aol.com