Windfall Update, January 2007
Windfall Caps 2006 Season with Fifth Place at FEI Eventing World Cup
Story and photos by Tim Holekamp
(Previously printed in part in The American Trakehner, permission given.)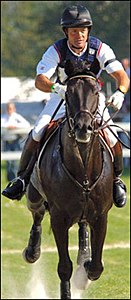 Windfall and Darren Chiacchia at The 2006 FEI Eventing World Cup in Malmo, Sweden

After the bitter disappointment of not making the US team for the World Equestrian Games in August, and having to endure sitting as spectators at Aachen as our three-day team failed to win a team medal, we were so encouraged by Windfall's outstanding comeback during the summer (a second at Groton House, then three firsts at Stuart, Millbrook, and Richland Horse Trials) with his rider Darren Chiacchia, that we entered him in the Finals of the FEI World Cup. This CIC***W competition is the culmination of an annual worldwide series of three-star qualifiers and is the international championship at the three star level. Sited this year at a beautiful seaside park in Malmo , Sweden just across the water from Copenhagen , most of the entries were European.

My wife Cheryl was Darren's groom, so we arrived well ahead to help at Windfall's training place after his flight from Chicago on September 24. We were fortunate to be invited to stable him at the oldest national studfarm in Europe , sort of the "Trakehnen of Sweden," a place called Flyinge, just twenty minutes from Malmo and one of the most wonderful horse farms in creation. The people there are the best and the horses are excellent, as demonstrated by our personal tour with breedingleader Birgitta Bentzer. Ms. Bentzer is a great fan of Windfall and remembered being present at his Koerung approval in 1994. If we can find the time for making some EU-compliant frozen semen, Windfall will likely "stand" at Flyinge before long.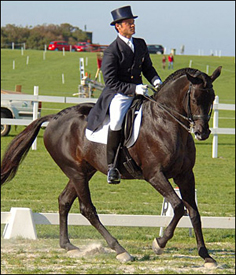 The World Cup competition was oddly scheduled: dressage on Saturday and both cross-country and stadium jumping on Sunday, with a formal FEI jog for soundness between the last two parts. The push was on for improved spectator/TV viewer appeal.

The weather was perfect and our hopes were high, but at dinner on Friday night our coach, Capt. Mark Phillips, pointedly asked me which horse I believed to be the best event horse in the world. Of course two came to mind, his and ours (daughter Zara Phillips had just won the individual gold medal at the WEG on Toytown, an unpedigreed gelding he found at a Pony Club clinic), but he reminded me of a certain gray French gelding at Athens two years ago named Galen de Sauvagere, who under Nicolas Touzaint had swept away all others with convincing style and power. Not seen since, he had been injured, recovered, and was entered that weekend as the leader of a team of top French riders and mounts. The French has also come to avenge Aachen , but with France located one heck of a lot more nearby to Sweden , they came loaded for bear. Gulp.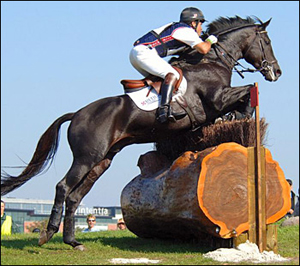 We did our best but with a sixth after dressage things were not looking real good. "Everything will change after cross-country," predicted Darren that night, and he was sure right. The course was the toughest three-star course I have ever seen -- legal, but all maximal, with many incredibly technical questions, requiring near-perfect accuracy, timing, and faith, of both horse and rider. All the teams had studied it intensely. Cheryl and I had even driven up from Aachen the month before to "scout" it a bit and take photos for the US riders to see ahead of time.

The crowd was massive, nearly Rolexish. When the dust settled after the 38 horses ran, only 24 had finished, only 13 without jumping faults, and only one horse made the optimum time. Windfall's run was nearly foot-perfect and held the sixth best time, raising him to third. A short three-hour rest, a tired horse, and two rails barely ticked but fallen, left Darren and Windfall in fifth place finally, very happy with the success but sorry to miss the victory.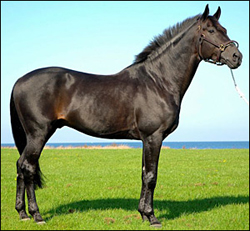 Windfall posing near the sea at Malmo

The winner, Nicolas Touzaint on that superhorse, with other French pairs finishing second and fourth. Nevertheless, this was a high placing for Windfall, who was the only stallion there. Darren's efforts during the summer, after the selection trials were over, have been richly rewarded with consistent excellence in cross-country form. According to the USEA, Windfall's career now stands second best among all horses in the entire history of United States three-day eventing, based on lifetime grading points earned, though because of non-equivalences in the competition formats between the US and Germany, he does not receive credit for quite a few wins and placings during his brilliant early career over there under the great Ingrid Klimke. If all were included in crediting those events, he would be standing in first place presently in the US all-time list of eventhorses. For sure.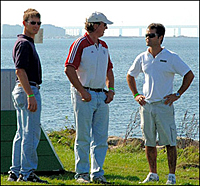 (l-r)
Jonathan Holling, Capt. Mark Phillips, and Darren inspect seaside park xc course at Malmo.
Further, because of the way USEA grading points are assigned presently, his fifth at the World Cup CIC***-W (an international championship at the three-star level) earned only 20 points. The same placing at the Fair Hill CCI *** (which he had to forgo to attend the World Cup), would have earned him 50 points, assuming the same perfect cross country run he had in Malmo. Same dressage tests, number of jumping obstacles, maximum heights and spreads both places, though more at the maximum at Malmo . The Fair Hill cross-country course was significantly longer, but having stadium jumping a couple of hours after cross country instead of the next day more than equalized that part. If he had had only 40 of those 50 points instead of 20 for his World Cup fifth, Windfall would have been USEA 2006 Horse of the Year. And if he had stayed home and gone to the last venue in the Gold Cup series he would have won that Series too. We felt that the US eventing team needed another shot at success in 2006, and made the commitment to go to the World Cup for that reason. Glad we did, but it sure did deprive Windfall and Darren of the year-end glory they deserved.
Now Windfall will be fifteen years old in a couple of months. Like all top eventhorses that age, he does have some joint issues, but seems fresh and sound in January, 2007. It is very hard to know what will come next, as there is a now a proper tug-of-war between his usefulness as a mount for Darren as a potential top competitor for the USET, in the Pan-Am games of 2007 and even possibly in the 2008 Olympic Games at Hong Kong, versus the consideration of retiring him and thus preserving him in good health for another decade of breeding, to benefit the future of US eventing.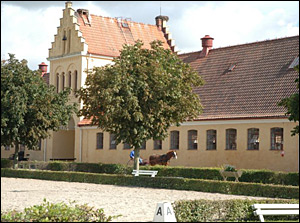 Ancient buildings with traditional storks nests on roof at Flyinge, Sweden's national stud farm

With his first US-born son Hanno winning at Morven Park as Four-Year-Old Young Event Horse National Champion in September, Windfall's upcoming offspring wave is about to become a big force in the next generation of eventing prospects. We have several that are "coming out" in 2007, some already with low-level wins and placings early in the year. In the next few years there will be several dozen more arriving, and based on what we have seen of them, the demand for him as a sire is likely to soar, as well it should. Our responsibility to preserve Windfall for this use is pulling us strongly away from continuing his competition career, but there are others pulling hard in the opposite direction, with the interests of the Team in mind.

The solution is to take things one horse trials at a time, and try mightily to use good judgment in all aspects of his handling, care, and training. We will do our best. Those who choose to use him to breed their mares are very importantly sponsoring his competition career also, and we thank them for it.
---
Home | Windfall | Halimey | Songline | About Us
For Sale | Amethyst | Trakehners | Odds n Ends | Credits
Tim and Cheryl Holekamp
New Spring Farm
7901 Highway 63 South
Columbia, MO 65201
Sales horses: newspringt@aol.com
Breeding to Windfall: holekamp@aol.com