Baron Verdi

Baron Verdi, 2011
(September, 2009) Baron Verdi and rider Michael Larsen earn their USDF Bronze Medal -- in one weekend! Article reprinted with permission of Warmbloods Today, www.warmbloodstoday.com
Baron Verdi Update 2007
Baron Verdi Update 2006

AN EXCEPTIONAL NEW DRESSAGE PROSPECT AND
APPROVED TRAKEHNER STALLION
On November 13, 2004 in Toronto the ATA inspection committee approved our colt, Baron Verdi, as a Trakehner breeding stallion. We believe he may prove to be an outstanding performance horse in dressage and brings to North America some important new blood for that sport. He is the first and so far the only approved Monteverdi son to come to this hemisphere.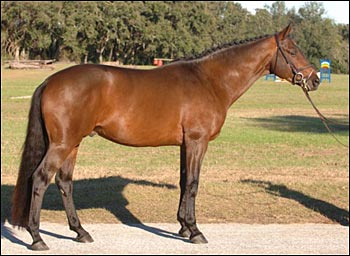 Birthdate: March 22, 2001 in Germany
Lebensnummer: DE 409 090149501
Measurements age 3: Height 16h 2inches
Girth 192 cm
Cannon Bone 20.5 cm
Color: Bay, with star

Arogno by Flaneur and out of Arcticonius xx
Partout
Pedola by Donauwind and out of Peggi
SIRE
Monteverdi
Matador by Donauwind and out of Maritza
Miami
Mirabell III by Kosmos and out of Miramar
Marduc by Halali and out of Madeira II
Anduc
Angelique by Ibikus and out of Angerapp III
DAM
Baroness XIII
Etong by Maharadscha and out of Etuede
Bacarole II

Babette IX by Tannenfels and out of Babouche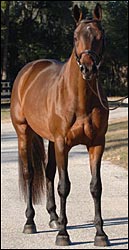 Pedigree Comments
Overall Baron Verdi brings highly accomplished dressage blood for the most part, though on his mother's side there are also proven jumpers. Noted for producing excellent rideability were sires found top and bottom, Donauwind and Ibikus. His sire's dam, the late Miami, was quite a phenomenon and hailed by many as a model Trakehner mare, also having produced one of the most important stallions of our age, Michelangelo, the Trakehner Verband's 2006 Stallion of the Year. Notably absent from Baron's pedigree is substantial thoroughbred influence, found in only one of his sixteen great-grandparents. The doubling of Donauwind is a major asset, in our opinion, as our study of history shows that the bigger the dose of his sire, Pregel, the more likely a horse is to succeed. Our remarkable broodmare (and riding mare!) Havel was sired by Matador too. We are "true believers" in this line.
Monteverdi, his sire, was one of the most promising GP dressage horses in Germany, until his untimely accidental death in December, 2009. having distinguished himself in the FEI young horse competitions early and worked up to the highest level over the next five years. He outstanding ability in the FEI movements, as was so well demonstrated at the 2004 Neumuenster Gala Show, where he was light, eager, powerful, and happy in his work. Monteverdi was born 1996 and stood 169 cm. He is black bay. His other approved son, Oliver Twist (out of mare by Windfall's half-brother Sixtus!) has been a phenomenal producer in Germany, including the Champion of the 2007 licensing approvals, Grand Passion, who sold at open auction in December, 2009 for 300,000 Euros, just four years old.
Monteverdi was the champion of his stallion approvals and scored overall 121.74 points at his HLP, winning top score in rideability (137.4 points). The German National Equestrian Federation (the FN) calculates and publishes a "breeding index" for stallions of all breeds, a measure of their ability to produce successful dressage horses. The 2009 list of most valuable stallions for dressage, scores Monteverdi at 151 points, placing him within the top one percent of licensed stallions in the country.
Partout was approved as a premium stallion in 1989 and became a top international dressage horse under Anky van Grunsven.
Anduc and Marduc hardly need any introduction as they both have produced many of the top dressage riding horses in the Trakehner breed..
Our mare Baroness XIII, whom we purchased from her breeder Werner Kindt when in foal with Baron Verdi, was herself quite well-rated, She was foaled in 1992 and measures 167 cm height, 194 cm girth and 21.5 cm bone. A state's premium and premium mare, she scored 55 at her German mare inspection and won the championship of the Trakehner mareshow at Saarland as a three-year-old. Baroness stayed in Germany after we bought her in partnership with Maren Engelhardt, and foaled the following March, producing exactly what we hoped for, a bay colt of superior quality.
Fully Approved ATA Breeding Stallion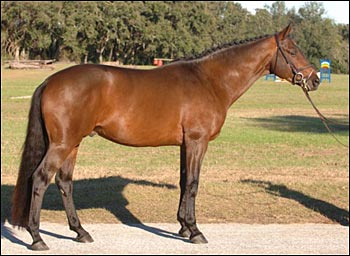 Baron Verdi won his foal inspection with an overall score of 8, a 9 in his walk. The German inspection team declared him back then a "definite stallion prospect." He remained in Germany, under the excellent tutelage and oversight of Baroness co-owner Maren Engelhardt's family, until shortly before he was two years old, at which time we brought him home to our farm. Basic training was followed by a brief preparation for stallion inspection at the ATA annual meeting in Toronto in November, 2004, where he was approved at age three.
For three months during the winter 2004-2005 Baron Verdi was entrusted to Darren Chiacchia for preparation to complete his performance testing for the ATA. This culminated in his entry at the Rocking Horse III horse trials at Altoona, Fla. on February 25-27, 2005. He won his division, finishing on his dressage score, which was the best score of all 82 open novice starters: 24.5 penalty points, 2.5 points better than any other, and the best dressage score of the entire show, more than 400 horses. His judge happened to be Jessica Ransehausen (USET dressage Chef d'Equipe), who came out of the judge's box to congratulate horse and rider and made several extremely complimentary remarks about Baron and also about the progress of U.S. Trakehners. Not too bad for a horse just starting his fourth year of life.
Photo by Amanda Bailey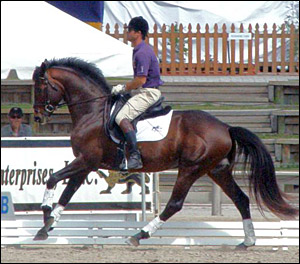 Baron Verdi and Darren Chiacchia at the Scott Hassler Young Horse Clinic in Wellington, March 2006
He came home to Missouri after that and settled seven of our best broodmares, including state's premium mares by Buddenbrock and Biotop, an FEI-level-proven Avignon daughter, and several other very interesting young mares by Apache, Windfall, and Amethyst. We expected to learn a great deal about his production as a breeding stallion from these 2006 foals, since they represent a broad array of bloodlines and types. Our vet found Baron's semen to be of excellent quality in all ways, including transportability.
Now those seven mares have foaled, giving us seven of the most remarkable and uniform foals we have ever seen as a "set." Seven bay foals, five colts and two fillies. All but one have better legs than their mothers and all strongly resemble Baron, as he appeared at the same age. One very uniform feature is the topline, with all having his recognizable favorable lumbo-sacral joint angle and structure.
Now a Rising Star in Performance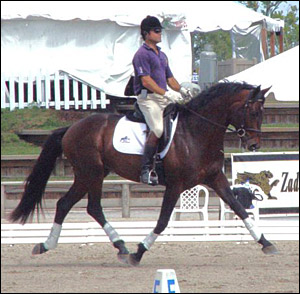 Baron Verdi and Darren Chiacchia at the Scott Hassler Young Horse Clinic in Wellington, March 2006
Photo by Amanda Bailey
Now he is back in hard work. Cheryl took him to his very first dressage show in October, 2005 in St. Louis at SLADS, where he won every class he entered and scored 70% at First Level. Then she took him down to our farm in Ocala and turned him over to Darren Chiacchia for a while, to get more show experience and perhaps try out the FEI Young Dressage Horse competitions. Already he has surpassed last fall, with a 72% at First level in January, 2006, at the Florida Horse Park, and a 7.44 on the young horse test. He will be concentrating on making more waves in competition this year. At the USEA's ICP judge's symposium, the chief clinician, "O" Judge Linda Zang used him for a demo horse in teaching scoring of the dressage part of the Young Horse divisions. She gave him an overall impression score of 8.5. That felt very good.
The next phase of his development has been entrusted to FEI rider/trainer Jim Koford of Southern Pines, NC. Jim has had him only a short time but things seem to be going well. At the huge Dressage at Lexington show in July they scored 71% at First level Test 4 and a final score of 8.4 on the FEI Young Dressage Test, hopefully earning them a trip to the national young horse finals in Kentucky in September.
But what really makes the difference is that over his five years of life, first in Germany and now in different parts of the United States, he has been handled and ridden by quite a number of horsemen and women. Without exception all have expressed a very genuine liking for him. This is what we are trying to reproduce. He may be able to do that.
(Photos courtesy Shannon Brinkmann and Tim Holekamp)
New! Baron Verdi Update 2007
Baron Verdi Update 2006

---
Home | Windfall | Halimey | Songline | About Us
For Sale | Amethyst | Trakehners | Odds n Ends | Credits
Tim and Cheryl Holekamp
New Spring Farm
7901 Highway 63 South
Columbia, MO 65201
Sales horses: newspringt@aol.com
Breeding to Windfall: holekamp@aol.com