Cheryl and Hera Finish the Gold Medal Job
By Tim Holekamp
(reprinted from The American Trakehner with permission)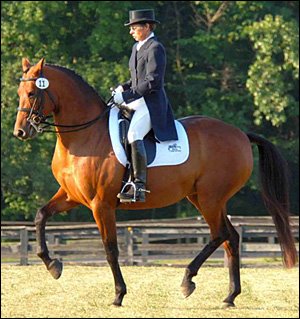 USDF Gold Medal recipient Cheryl Holekamp riding Hera
Cheryl Holekamp has spent 23 years breeding riding horses with me, first as an avocation when she was working full-time as a surgical nurse and raising our children, more recently as a full-time occupation. I study the details of pedigrees and history, cheer on the family competitors, and sometimes make hare-brained breeding decisions that seem to work out pretty well. In fact, this story revolves partly around one of those great moments in breeding history. It illustrates why self-styled horsebreeding geniuses ought to take their humble pills daily.
At the ATA meeting in 1990 I made the winning Futurity bid for service from the Eidt's late Consul son, Garibaldi, and in 1991 we used it to breed our gray Preussengeist mare, Fond Memories. In March, 1992 she foaled a really wonderful filly, so good to our eyes that we immediately called Sam Eidt and made arrangements for another breeding, trying to catch her in foal heat. The night we planned to inseminate her, Cheryl was out of town and so I held the mare for the vet, who palpated her and declared it to be "too late – she ovulated."
Rats! I was raised to "waste not, and want not." It was a very cold night and the horses were all inside, the nearest stall occupied by our son's riding mare, not scheduled for breeding that season, but not being ridden much either (14-year-old boys sometimes move on to human females about then). She was in obvious full heat. In that unforgettable moment I just made what I choose to call an "executive decision" and told the vet to "put it in THAT one." He narrowed his eyes and looked at me sideways (I think "askance" is the word), but did it anyway. Naturally that single breeding led to a pregnancy and the next March Havel presented us with a cute bay filly we named Hera.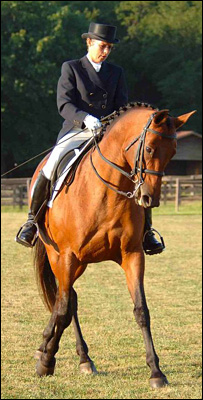 Hera and Cheryl at the trot half pass
Cheryl's role on our farm has always been to manage the broodmares and get the foals started. She is a true artist at teaching Trakehner horses the "right" way, with firm leadership but no forcing. Cheryl speaks horse, and especially speaks "young horse," in the same way a great kindergarten teacher speaks 5-year-old child. It is a lot more than speech, obviously. Those of you who know about the horses she has started and trained and about what they have ended up doing with their lives know well enough just how good she is.
All along she has been a local winner in dressage, jumping, eventing, even some hunters, but always at the lower levels. Almost none of our bred horses have stayed on our farm long enough to be reaching upward in the levels; and those that were still here at an appropriate age were invariably mares that stayed to have foals after a few years of competition success.
This has been a great formula for producing and selling useful riding horses and for identifying the best "keeper" mares, but the one thing those many years deprived Cheryl of was the opportunity to spend any time or resources learning the upper levels of her big passion – dressage. About six years ago I finally realized how wasteful this was of a talented rider's career, one who left a top job in nursing to be a full-time mother to three children and to run New Spring Farm. As the kids began moving away, it finally dawned on me that time was running out. If she were ever to go up to the top, it would need to be soon. We talked. She seemed interested.
Since the highest-trained horse on our farm at that time was just beginning Second Level dressage, I suggested we go looking for a made horse. First we bought ACTRESS, a powerful and sexy Avignon daughter, who was going Prix St. Georges with success. That mare turned out to have a totally defeating bitting flaw that could not be diagnosed nor made right by any vet, dentist or dressage coach. We tried them all. So Actress became a rather expensive broodmare, who is now producing top quality foals. Then we spent an even bigger pile of dough on one of the very few actual Grand Prix stallions in the ATA, the aged Merkur son APACHE. As handsome and as talented as he is, he was very lame and a frustrating year of on–and-off (mostly off) soundness finally led to his return to the seller. Cheryl was disappointed and getting worried about the money being spent.
It happened that just as we were giving up on Apache, Cheryl was signed up for another Gunnar Ostergaard clinic in nearby St. Louis and was unexpectedly faced with the prospect of forfeiting a paid-for weekend. I insisted that this was not about APACHE, rather it was about CHERYL, and I urged her to just grab a broodmare and go. By that time HERA had graduated magna cum laude from Cheryl's mare-testing program (third in the ATA Futurity and then won the USCTA Area IV Training eventing championship) and had produced a filly by Amethyst (HERACLEA). Because she was open and in reasonably good fitness, the next thing that mare knew she was on the trailer rolling to St. Louis. No prep whatsoever. What happened next has more or less driven our lives for the last four years.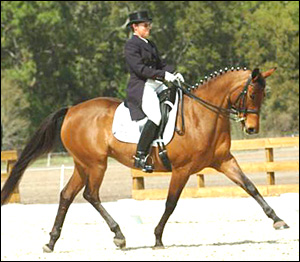 Hera and Cheryl at extended trot
Gunnar watched them, made suggestions, ordered movements and corrections, and all of a sudden little Hera was doing the FEI dances! At the end of the weekend, Gunnar laughed and told Cheryl that her last two "rides" (Actress and Apache) were nothing compared to this very talented little bay mare she had been hiding behind the barn, who (in his opinion) could make it to Grand Prix.
Since Cheryl was at the time struggling with Fourth Level riding and had no idea how to train a middle-range horse to Grand Prix, it meant clinics in St. Louis, winters living in a barn stall (no kidding) in Ocala near Gunnar's place for three years, as Gunnar taught Cheryl how to teach a horse FEI dressage. Then, last year, we bought a little winter farm just two miles from both Darren Chiacchia (Editor's note: the trainer and rider of the Holekamp's star eventer WINDFALL *Pg*) and Gunnar, and Cheryl has settled in there with great happiness.
Meanwhile Hera has made steady progress, sometimes very slow and incremental, but without one moment's backsliding. Gunnar is patient. Cheryl has made the process great fun for herself. Along the way, she also went through the USDF judges "L" program, passed with distinction, went on to earn her USEF "r" dressage judge's license in 2005, and is now much in demand as a judge, working toward an "R" rating.
When last winter began and Cheryl and Hera were scoring in the 60's at Intermediaire I and II, I began to wonder if they would ever get to their place on the highest cloud. Everyone seemed remarkably satisfied with things, but I was thinking, "Why not Grand Prix?" So after some wrangling, the goal was then set last Christmas. In the second week of February, Gunnar finally said, "You are ready, I think." And so Cheryl nervously signed up for the Big One at Fox Lea Farm Dressage Show in Venice, FL, on Friday, February 24. I just could not stay away and flew down there a week ahead of time.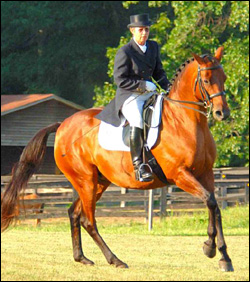 Hera and Cheryl at the canter pirouette
Talk about nervous? Hera was still looking happy and sound, galloping for the heck of it around her pasture right outside our bedroom window. Cheryl was not sleeping much.
The day arrived. We were ready. Weather gorgeous. Camera charged. Horse maxi-spiffed. Gunnar very cool -- been there, done that a zillion times. Arena perfect. Flowers beautiful. Cheryl said she was trying to envision success but kept seeing herself and Hera refusing to enter the arena. And yet, when the moment finally arrived, into the arena at A they went! I got short of breath, but being the big videographer, I could not let myself go at all.
They cruised. I mean, they just flat did it! There were some weaknesses and a few mistakes --17 absolutely perfect, straight and clean, single tempi changes (unfortunately the test calls for 15, no more, no less). Wonderful piaffes, but pirouettes that lacked accuracy. Extensions that took one's breath away. And the whole time Cheryl grinned and so did Hera, as they accurately marched, trotted and cantered along. I can prove it, all on digital 8mm videotape.
As they came out of the arena, neither of us really cared about the score, as we knew what an incredible accomplishment this was for both of them and for our farm. The way things turned out, fate deprived Cheryl of the 60% she needs for her USDF Rider's Gold Medal, but the deprivation was by only one single point on one single movement. She got a 59.3%! Not to worry, those scores in the sixties will come. They are right there to grab.
We celebrated at the best restaurant we could locate in Venice; The Big Splurge was its name, as I recall. It was absolutely great!
(Editor's note: at the Ocala Dressage Show on March 11-2, 2006, Cheryl and Hera scored 63.75% in the Grand Prix, and then on July 7 at the Missouri Dressage Classic they tallied a Grand Prix score of 61.875%. Cheryl received the USDF Rider's Gold Medal at the USDF annual meeting in Kansas City on December 2, 2006. There are very few who have earned this highest honor on horses they bred and trained themselves. And this one a purebred TRAKEHNER studbook mare at that! )
Back to the main About Us page
---
Home | Windfall | Halimey | Songline | About Us
For Sale | Amethyst | Trakehners | Odds n Ends | Credits
Tim and Cheryl Holekamp
New Spring Farm
7901 Highway 63 South
Columbia, MO 65201
Sales horses: newspringt@aol.com
Breeding to Windfall: holekamp@aol.com